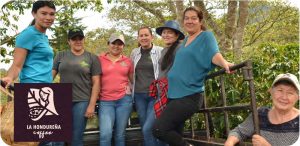 ✨New Producer Partner ✨
We are thrilled to share with you our newest producer partner. We have been busy scouring the best of the best women grown coffee for you and cannot wait for you try our latest.
La Hondureña is our first Honduran coffee partner. Started by two stellar women, Soccorro Reyes and Norma Lara, from the La Labor region of Honduras, this coffee has deletable notes of caramel and green apple. 
We cannot wait for you to check it out. Let us know what you think and share with all your friends☕️
Available now, La Hondureña coffee from Honduras! You can now add it to your monthly subscription or order it a la carte.
Why did we choose Honduras?
Honduras is a small Central American country in which an estimated 20% of the rural population earn less than $1.90 per day (World Bank). Access has historically been a challenge as country-wide, roads are sub-optimal. Many coffee farms in Honduras are accessible only via treacherous dirt roads that snake up along mountainsides. Despite these factors, entrepreneurial producers, like Socorro and Norma, are working hard to produce the highest quality coffee, experimenting with new processing techniques and growing high-profile varietals.
We share the objective of kicking down the door of the specialty coffee market, building a reputation in specialty coffee and ensuring that the farmers earn the money that comes with it.
Kebon exists to deliver you the highest quality coffee, all from women-owned businesses. Every sip will delight your coffee palate and strengthen a global community of women.
We work hard to bring you a tantalizing variety of the highest quality coffee.
With every subscription you're getting–or giving–great taste, variety and ease while helping a woman grow her business.
We are so grateful to have you in our community, sharing our passion and our purpose. 
Happy Brewing,
Winter
winter@kebon.co